Our research on Egyptian coffins
Nespawershefyt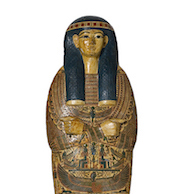 The yellow anthropoid coffin set of Nespawershefyt is one of the finest surviving examples of its kind from the 21st Dynasty. Comprising a mummy board, inner coffin and outer coffin, it was one of the first objects to be acquired into the fledgling Fitzwilliam Museum's ancient Egyptian collection in 1822.
Read about Nespawershefyt
Pakepu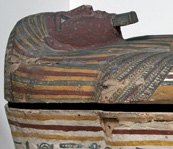 This coffin set belongs to a man named Pakepu who worked as a 'water pourer on the west of Thebes' around c.680-664 BC. The coffins were discovered during excavations in Luxor in 1869 and subsequently gifted to the Museum by Prince Edward (later Edward VII) in the same year.
Read about Pakepu
Miniature coffin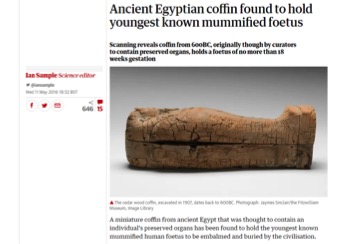 Among the Fitzwilliam Museum's Egyptian antiquities collection is a miniature coffin that had been thought to hold mummified organs, but was in fact found to contain an embalmed human foetus.
Read about the miniature coffin
Beni Hasan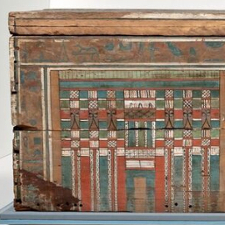 Beni Hasan was one of the most important necropoleis for the high officials governing the region during the Middle Kingdom (c. 2010 - 1650 BC).
Read more about Beni Hasan